Flower delivery complaints bloom in the spring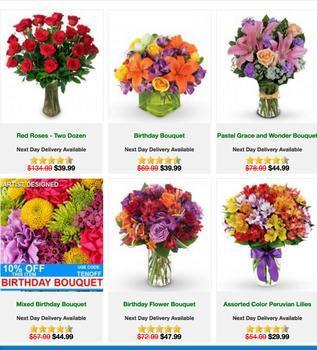 Screengrab from http://www.avasflowers.net/
This is prime time for flowers. Between Mother's Day, Father's Day, and all the graduations and spring weddings, the petals are flying furiously. Unfortunately, they don't always land in just the right place, leaving frustrated consumers on both ends of the transaction and causing a big spike in review submissions to ConsumerAffairs, with more than 120 flower-related reviews in just the last three days. Avas Flowers has been on the receiving end of many recent complaints.
"I called Avas Flowers the day before Mother's Day, understanding it might take a little longer," said Sam of Apache Junction, Ariz., in a ConsumerAffairs review[1]. "They were not delivered on Sunday. By 5 pm on Tuesday they still had not received them, so I called Ava's to cancel the order."
Unfortunately, Sam said, it wasn't that simple. He said he made 27 telephone calls and sent three emails, all requesting that the order be canceled, with no luck.
"Finally on Wednesday, they texted me and said the plant was delivered on Tuesday at 4:30ish. I called mom to verify this and that was the only true thing they told me. Later that week I called to have them go and pick them up, as I wanted a full refund. The idiot on the phone explained 'They had been delivered. You won't get a refund.'"
Not just delivery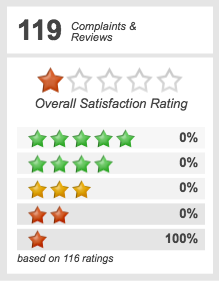 Consumers rate Avas Flowers[2]
Besides delivery problems, consumers are often unhappy with the selection or quality of the flowers.
"I ordered red roses for my dying grandmother. I clearly stated I wanted the red roses and they said yes and they delivered carnations," said Lee of Kailua Kona, Hawaii. "They then argued with me and said they were roses when clearly they were carnations."
Olivia of Ocala, Fla., also had a problem with the selection. "They sent whatever they wanted!!! Not even close to what I purchased for $103.00. They said they were local… THEY ARE NOT!"
Kiki of Waynesville, Ohio, called on a Friday afternooon to get flowers for a Saturday funeral.
"I was called this afternoon (Tuesday) and told that the flowers were not delivered but they could send a nice arrangement to another address. They stated that they miscalculated the distance to the funeral home," Kiki said. "I spent close to an hour trying to speak to someone to get a refund. I was disconnected, or repeatedly sent to a Customer Service Expert who gave me the same story each time. While on hold, a recorded voice told me that Avas is locally owned and operated. Each time I called, I got through to a call center."
Avas, headquartered in Mahwah, N.J., claims to have been in business for 30 years, much of it as a brick-and-mortar floral shop. It now takes orders nationwide, sending them on to local florists for fulfillment. While all flower delivery services have their problems, especially at busy times of the year, Avas has lately seen the brunt of many reader complaints. As with any vendor, consumers should carefully review Avas' cancellation and refund page before placing an order:
In the unlikely event you are unhappy with your product(s), please notify us within 24 hours of delivery and you may return the arrangement for a refund, request an exchange of products, or receive store credit.
To receive a refund, non-perishable products may be returned unused and in its original state within 7 days of delivery for a full refund of the cost of the item, less any service fees. Hand-delivered floral product or perishable goods may be returned in its original state within 24 hours of delivery and may be subject to a 50% restocking fee of the cost of the product. To receive an exchange of goods, notify us within 24 hours of the issue with the delivered arrangement and we will pick up and re-deliver another product(s) of equal or greater value at no additional cost to you. We will need to be provided the opportunity to pick up the product(s) you are dissatisfied with prior to processing a redelivery. If you have a complaint about a delivered product but do not want or cannot provide an opportunity for us to pick up the original delivered arrangement, we will provide you with a courtesy store credit for future use.
Refunds or credits given for orders that have already been delivered or have had an attempted delivery will only be for the partial or full cost of the arrangement(s), less any service, handling, or restocking fees.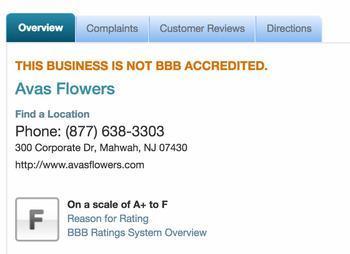 That's a lot of conditions and it leaves a lot of room for misunderstandings and bad feelings.
It's not only ConsumerAffairs that has a big collection of negative reviews about Avas. The Better Business Bureau gives Avas an "F" rating, citing a high number of complaints, a high number of unresolved complaints, and delays in responding to some complaints.
See reviews for more flower delivery companies[3]
References
^ ConsumerAffairs review (www.consumeraffairs.com)
^ Consumers rate Avas Flowers (www.consumeraffairs.com)
^ See reviews for more flower delivery companies (www.consumeraffairs.com)